This story was lying in my drafts folder for a long time, as I was not able to establish the identity of the character involved. It was only after reading a relatively recent blog post by Murali Rama Varma who had been away for a while, that I got it resolved. First, thanks Murali for coming back, your posts have always been refreshing and secondly, for helping me identify the person involved.
The only place you can find a pen-portrait of this person is in the book penned by one Isaac Tyrrell. So first let us start with Tyrrell, he spent 56 years in India, in the police and jails and through the 1857 Sepoy rebellion. It is claimed to be an extremely readable and amusing account of a long and varied career "with never a furlough to Europe, nor a residence in a hill station", a record which he believes has never been beaten in India. Having enlisted in the 46th Regiment of foot, Tyrrell embarked in 1847 as a guard on a convict ship bound for Hobart, Tasmania. In 1849 his regiment was posted to Calcutta and for the next 48 years he moved frequently around north and south India, working for the EIC.
It is surely fascinating, a window into the life of an Englishman in India, but we will not get into all that, we will focus only on his life in Palghat circa 1880 -1881, as the superintendent of the Fort Jail (Tipu's fort was first a government office, the Thasildar's Cutchery and then converted into a jail after the British took over). We note that a school existed and that one Mr. T. Elsworthy, was the Principal of the Palghat High School. We see that a railway station existed there, and one Mr. Paton, was the Railway Permanent Way Inspector. There were other foreigners too, a German miner prospecting for gold who is stated to have been friendly with one Mrs Tomlinson and her daughter Mrs Du'Pen. Mr Gay was a contractor, Ebenezer Sewell the assistant magistrate, Mr. Theobald, a Eurasian subordinate of the Forest Department, with his headquarters at Palghat and they all congregated at a church there, well attended, while tigers and cheetas roamed freely and made life interesting or difficult, whichever way you see it! Even a wealthy American globetrotter stopped at Palghat to hunt tigers with Theobald, can you believe that! The American sent Theobald some gorillas in return, from Borneo, who would ' wrap themselves in their " cumblies," and go to sleep quite cosily at the foot of their master's bed ; but Mr. Theobald feared they would not survive the wet season of Palghat' – and well, as he feared they both died soon after (Theobald was fired later when some elephants under his care died of foot disease, he moved to Mysore as a ranger and started a fight for reinstating lasting 14 years after which the British agreed!).
They did have a library and a reading room, low on funds and upkeep. The following passage tells you a lot on the life in those days at Palghat, which by the way, readers pls note – is also my maternal 'Native place'!!
The Tahsildar and two or three other Native gentlemen who were members of the institution exerted themselves strenuously to assist Mr. Sewell. Of course, even those who took part in the performance gave their ten rupees each towards the fund, and all the Native gentry followed suit, and this brought up the collection to over three hundred rupees which put the Library on a sound financial basis. Some of the ladies sang and several gentlemen gave readings, while I gave a couple of recitations, but the gems of the evening's entertainment were a couple of humorous readings by Colonel Dance, a son-in-law of Mrs. Tomlinson which pleased the audience very much. The entertainment was held in a large room in Mr. Sewell's bungalow where light refreshments were also provided. I was shocked on seeing some of the Native gentlemen come into the room dressed in their semi-transparent mull cloths tied around their waists, which caused them to have a Rontgen or " X " Ray appearance. One can admire this sort of thing in a music hall dancer, but in a Drawing-room, and in the presence of ladies, it was outrageous. One must draw the line somewhere and I drew it at that. These gentlemen were quite unconscious that they were transgressing the laws of decency. Indeed, I may say they seemed as if they were quite proud of themselves. " You may look, and you may admire, but you must'nt touch." That was the sort of look they had on their faces. I remarked to Mr. Sewell " surely these gentleman should not come in such dresses where ladies are." Mr. Sewell, who was rather of a serious turn of mind smiled, and replied " why, don't you know this is full evening dress for the Native gentlemen of Malabar?"
Tyrrell was deputed to Palghaut (as Palghat was called) in 1880, following a visit of the Duke of Buckingham. The jail had been opened in 1878, during the famine years, after many issues, one being the violence at the Cannanore jail (one or two of the convicts had been shot down from the central tower where the Superintendent Colonel Beauchamp and the Jail subordinates had taken refuge, following a case of flogging and subsequent revolt). Mr Grimes from Palghat was transferred to Cannanore and Tyrrell was sent to Palghat from Madras as the Jail Superintendent. He observed straightaway that the prison with 400 prisoners had been badly mismanaged and that some prisoners had succumbed to dysentery. He noted that half the milk collected for the inmates was being diverted for private use. The Rajput apothecary was not too bothered about his work and the inmates suffered, as a result.
The description of the Palghat area is fascinating and original, he states- The rainfall was so great, that I began to wonder to myself where all the water came from, for within thirty miles to the East on the Coimbatore side, there was in all probability scarcely a shower of rain during all the period, and nearly the same might be said of Ootacamund which is only forty miles to the North from Palghat, as the crow flies. There is no road from the hills North of and close to Palghat, but there is a jungle tract to Ootacamund. Probably a few numbers of the jungle tribes inhabiting these hills may have travelled through these jungles, but it must have been a terribly risky thing even for them, for the jungle is infested with tigers, cheetas, bears, and other wild animals.
Tyrrell goes on to describe the social ladder, the positioning of the Englishman, the middle-class Hindu, the lower castes and the untouchables and asks a pertinent question – I wonder how they would like a Cherumer as leader of the opposition to lay down the law to them. All this disgusted me with the mild Hindu of Palghat and I frequently gave him a piece of my mind and told him that in Madras, these poor outcastes would have just as much claim to walk on the roads as the Governor himself.
And then he comes to the gent this article is all about, though he names him wrongly as Ramaswamy Chetty. Well the person is none other than the famous Pulicat Ratnavelu Chetti. Tyrrell introduces him thus – While I was at Palghat the first Native Covenanted Civilian to enter the Indian Civil Service, one Mr. Ramaswamy Chetty, was appointed to act as Assistant Magistrate of the Station.


Let us now get to know this fascinating character from Madras. Mr Ramaswamy Chetti, his father was a wealthy and very well-known person in Madras, working in the Madras municipality. He had decided to get his sons educated in England and Ratnavelu was his eldest son born in 1856, who found himself bound for the cold climes of England, in 1873.
In May 1873, Ratnavelu was admitted to the Lincoln's inn (The Lincoln's Inn is one of the four Inns of Court in London to which barristers of England and Wales belong and where they are called to the Bar. (The other three are Middle Temple, Inner Temple and Gray's Inn.) Lincoln's Inn is recognized to be one of the world's most prestigious professional bodies of judges and lawyers. He then continued his education at Oxford and was later called to the bar in Nov 1877.
In 1874, he had secured an admission with distinction into the prestigious ICS which had just been thrown open to native Indians. From various newspaper accounts, we see that this 19-year-old 'Hindu Scholar' who had initially been schooled at Madras (he obtained his BA there), excelled in his educational pursuits at the Balliol college in Oxford. He obtained a mathematical scholarship and was placed first but went back to India in 1876 to get started on what would have been an illustrious career.
His service record reads thus.
PULICAT RATNAVELU CHETTI, B.A – Arrived 24th December 1876. Assistant to the Collector and District Magistrate, Salem. 2nd January 1877. Assistant Collector, Chingleput, 9th August 1878. Acting Head Assistant Collector and Magistrate, North Arcot. from 9th August 1879. Assistant to the Collector and District Magistrate, Malabar, 2nd December 1879. Assistant special assistant Collector and District Magistrate, Malabar, 5th May 1880, Assistant inspector general of registration from 24th Aug to 28th Sept and from 1st Oct to 4th Nov 1880. Acting Head assistant Collector Malabar from 13th Nov 1880 – 4 years, 8 days (Note that Chetti never moved from an assistant to the collector's position because the Madras presidency would not seemingly appoint a native in that post).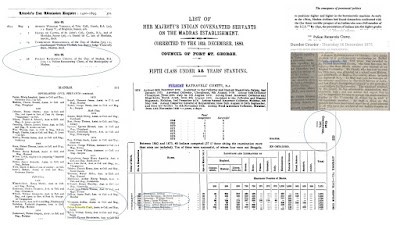 Whatever happened to this brilliant person in 1880? Why did he vanish from the civil service records? Well, let us follow his story in Tyrrel's words for his arrival into the midst of the British ruling establishment at Palghat caused much furor. The fact of a Native being sent to Palghat as Assistant Magistrate was a thing the local leaders of Society could not comprehend, and it caused a great deal of talk and angry comment, especially amongst three or four of the ladies. One lady in particular gave vent to her feelings on the subject in very strong terms. The " fuss and clatter " made in connection with this matter suggested to one the idea of a hawk swooping down on a poultry yard.


When ladies are upset, their menfolk I suppose get even more upset! Anyway, at this point, it appears that Chetti had become a Christian, as we can see from Tyrrell's accounts and managed to handle the situation quite well. He explains – We were badly off in the matter of our spiritual needs at Palghat, but Mr. Elsworthy who was Lay Trustee acted efficiently in the absence of a Chaplain and used to take the Services. The Revd. W. Elwes, the Chaplain at Calicut at that time, however, would come down three or four times a year for such essentials as Baptisms and the administration of the Holy Communion.
Tyrrell continues – Mr. Ramaswamy (Ratnavelu) Chetty however came, saw, and conquered, and the lady who was the loudest in her condemnation of him was driven by him to Church in his turn out, Verbum sap! Mr. Ramaswamy (Ratnavelu) Chetty attended Church regularly, and was most popular with the Europeans, He had taken a high place in the list of " Passes" in the Examination for the Civil Service in England. In our private, as well as our official relations with each other, we were the best of friends, and I got to like him very much. He was also a man of wide culture and had some valuable classical works which he kindly placed at my disposal. There was a great deal of comment in the Madras papers regarding the certainty, of his losing caste on his return from England (Maybe that is why he became a Christian), but he did not seem to care. a straw for the opinion, of his fellow castemen, for he went to Church, dressed, ate, drank and behaved in every way like an English gentleman. I must also say that his house was furnished in the English style, in the most elaborate and expensive manner, and could scarcely have been in better taste than if the hand of a lady had had anything to do with it.
A little research proved that Ratnavelu had been dogged by racist issues even before his arrival at Palghat and in this regard, I would like to quote from an interesting paper listed under references


Attitudes towards the new educated Indian Middle Class, as expressed in the newspaper, were also far from consistent, and for every article approving of the presence of Indians of 'the better classes' on the Hills, there was another attacking the 'Anglicised Hindu' in virulent terms, and expressing the greatest hostility to the appointment of Indians drawn from this group to civil service posts in the Nilgiris. In January 1877 an editorial decried the appointments of Mr. Pulicat Ratnavelu Chetti and Mr. Parupalli Pundarikashudu Gar to the Madras Civil Service.
Articles such as this appeared with frequency in the S.I.O. (South of India Observer) The educated Hindu is an anomaly. He is respected in his dhoti and his chudder, but despised in patent leather boots, knickerbocker stockings and linen cuffs and collars. He can be listened to, when expressing himself in his vernacular, with appreciation and attention, but is repulsive when speaking in English with a vile accent, interlarded with d – 's and vulgar oaths, which he has picked up from association with low and drunken foreigners, whom he strives his best to imitate.
Murali provides more bio – During service, he had qualified in Tamil, Sanskrit, Canarese, Telugu and Malayalam. He was also drawing salary and allowances of Rs 802 rupees, a princely sum in those days. Assuming gold price to be Rs 13 per sovereign (as in early 20th century), the amount could well be equivalent to today's salary of Rs 15 lakhs per month.
Perhaps he managed to get through occasional racist incidents (we know that British could be the worst among racists), perhaps he did not, for we hear of another incident (not substantiated) but well known to the old timers of Palghat, that Ratnavelu Chetti once organized a reception to the visiting Malabar Collector, a British ICS officer under whom he was working. During the function, Chetti welcomed the guest by shaking hands with the guest. It is reported that the racist senior officer washed his hands in public, mouthing expletives, in front of the guests and attendees, since Chetti was a black skinned native. Chetti was deeply shocked and humiliated and killed himself. A kerosene lamp and post were set up by the public in his honor, which the British removed citing lack of permission, resulting in huge protests. John Stanley the governor in Madras finally acceded, and a new lamp was installed. This is the story attributed to his suicide by the Kerala archives in their commendatory video, which alas, is not quite true.
Now looking at the list of collectors, we see that three people served during the period when Logan was away. We had CWW Martin, followed by EN Overbury and finally G Macwaters until Logan returned in 1880-81. We do not come across this incident in the extensive studies people have conducted on the life of William Logan, so it must have been related to one of the three during 1879. The very fact that three collectors served in one year shows that some rapid changes were made at Calicut during the absence of Logan.
Another story did its rounds which goes thus – Ratnavelu Chetti being the top Government official was invited to the club when the Britishers were celebrating the birthday of Queen Victoria. As you can imagine, he was the only native. After the banquet and a toast to the Queen, the attendees commenced dancing, sans Chetti who sat watching them. A British couple gyrated towards the corner where Ratnavelu was sitting and the English lady quipped " who is this crow among the swans" and glided away. Now I cannot quite believe this took place in Palghat since Chetti was well known to the British as Tyrrell explained earlier. It probably took place elsewhere, and we will get to that aspect soon.
Let us now get back to Tyrell's documented account published in 1904, where he explains that Ratnavelu Chetti went to Calicut to attend what was popularly known as the Canterbury week. I had written about this celebration some years ago (that is when I came across the story for the first time). As a gentleman of the time puts it – John Bull brought his idiosyncrasies to Malabar too, specifically Calicut in this case, which is his love for Cricket. And what better than to have a Canterbury week in Calicut? Thus, came about the CW during the 1870's and this was hosted and conducted with regularity through 1920 at Calicut.
As the planters in Wynad went around planting rubber, tea, coffee and so on, they also found ways to have a bit of amusement both in the hills and the plain of Calicut which was some 30 miles away. So when the lean period came by, the planters took some days off and came down the Ghats to Calicut to spend a week on fun and frolic, perhaps on the MCC, Mananchira and Zamorin's school grounds of those days as they stayed in the Malabar European club off the beach front. The week was aptly called the 'Canterbury week of Calicut'. The only difference was that while the British Canterbury week at Kent welcomed a mixing of both the upper and lower classes of peoples, the one in Calicut was primarily for the British gentry.
The picture tells the story, it shows 'hat clad' Englishmen coming to the Malabar club on the Calicut Beach early in the morning, riding down the hills on bullock carts through the night, with many ladies and the pomp. They must look their best, so the first call of the day is to get their hair cut (look at the guy's hair sticking out) and barbers are pulled out of their beds, struggling. Looking at the picture – makes me a little confused as to whether the artist was really in Calicut, for that kind of a Chaprasi and barber dress is unusual for Calicut, but perhaps it was so.
Getting back to Tyrrel, he had to leave Palghat – In May 1881, Colonel Tennant wrote to me to say that it was his intention to recommend the closing of the Palghat Fort Jail to the Government of Madras, on the ground of the unhealthiness of the place and the number of cases of sickness amongst the prisoners. After closing the Jail, I returned to my former appointment as Keeper of H. M.'s. Penitentiary on the 3rd June 1881.
During the same year in which Tyrrel had left, Ratnavelu went to Calicut, to attend the Canterbury week of Autumn 1881. Whether he had attended the events in previous years or whether he stayed at the Malabar club is not clear. But the 1881 visit proved to be a disaster. Bullying or racist behavior continued and Ratnavelu was, it appears, snubbed at Calicut by a planter (this was possibly when the lady called him a crow, resulting in a fracas with the husband). This was perhaps the last straw which broke the camel's back, for it is said that Chetty ended up getting shot.
The official report stated – On the 28th Sept 1881, Mr Puliccat Ratnavelu Chetty C.S, the first native civil servant of this presidency, met his death by an accident at Palghaut, where he held the office of Acting Assistant Collector. He had returned from Calicut and the cause of death is attributed to a gun accident. The deceased gentleman was the son of Mr P Ramaswamy Chetty, the revenue vice president of the Madras Presidency. He was just 25!
Tyrrel heard about this incident later, and he remarks sadly – It was some time after I had left the station that I heard of his tragic death. He had either shot himself accidentally or had committed suicide—the point was never cleared up'. He had been to Calicut for "the Canterbury Week," and while there had had a dispute with a planter who had used some strong expressions towards him. This, it was said, had preyed on Mr. Ramaswamy Chetty's mind, and led him to commit the deed. I was very sorry indeed to hear of the occurrence, for I liked him very much and felt sure that, had he lived, he would have been an ornament to the Indian Civil Service.
Was it an accident, murder or suicide? In 1881, the righteous William Logan was back as collector, but he never made a mention of the incident. Did the British condone the actions of the racist planter? Was there an enquiry into the incident? It does appear from the report that Chetti lived for a few hours after the shooting and died at Palghat after heading home, so was he gravely injured and died subsequently. I assume time may uncover some details, though I have been unsuccessful. Maybe the incident figured in some repentant planter's diary.
His father was well known in Madras, had excellent connections and outlived him, his brothers studied in Britain though one of them named Narayanaswami died after returning to Madras, in 1901, after an equally proficient tenure at the bar in Britain. Why did none of these relatives mention this or go against the establishment, if it was indeed a case of murder or bullying? Was Ratnavelu disowned by his folk for converting? We don't know!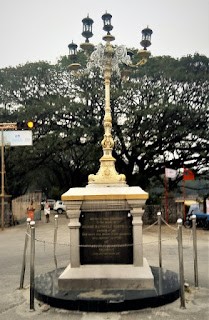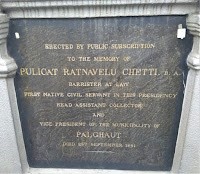 The people at Palghat decided to honor him and constructed a lamp pillar near the district hospital, very Victorian in design as you can see, complete with five kerosene lamps, called Anchu Vilakku which survives to this day. This was done at the initiative of municipal chairman Rao Bahadur Chinnaswamy Pillai around 1893, with funds collected from the local community. The people of Palghat still remember Chetti and his unfortunate tryst with destiny.
References
From England to the antipodes and India 1846-1902 – Isaac Tyrrell
'White Todas'. The Politics of Race and Class amongst European Settlers on the Nilgiri Hills c1860 – 1900, Journal of Imperial & Commonwealth History Vol.32 No.2 (May 2004) pp.54-85
The-Asylum-Press-Almanac-And-Compendium-Of-Intelligence-For-1882
Canterbury Week at Calicut – Maddy's Ramblings , Jan 07,2012
Kerala Archives video commemorating Ratnavelu Chetti
Racism and it's 19th century martyr from South India -The story of Ratnavelu Chetti ICS – Murali Rama Varma
Palakkadwalks page
I wish my dear friend S Muthiah were alive, he would have given me more details of the incident, digging into his extensive resources. In case anybody else can help, please feel free to comment.
Pictures of Anjuvilakku – courtesy Murali Rama Varma
Post Source – https://historicalleys.blogspot.com/2020/02/the-tragic-story-of-pulicat-ratnavelu.html